Air transport
Air transport is the most expensive form of transportation. It is used when speed is of the essence. However, transportation by air is in many ways unpredictable: we have all heard of airlines having to stretch their schedules for one reason or another.
We are committed to monitoring our air freight consignments with special care. We follow up and check personally on the cargo and its progress. If any changes occur we are first in line to solve the issue and to demand alternative action to be taken in order to stay on schedule.
With air transport, you need to be in control of the same things as with other transportation modes: packing, fastening, documentation and the whole transport chain. Our service allows you to get on with what you do best, while we sort out your transportation needs. We'll do the thinking for you – all you have to do is choose the best option for you from the alternatives we present to you.
Contact us – we're happy to serve you!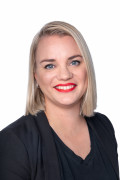 Jonna Ahkila-Niemi
firstname.lastname@ahalogistics.com
Read more
Jonna Ahkila-Niemi has worked in forwarding and transportation business for several years having been responsible for import and export deliveries in all transport modes: sea and airfreights, road and rail transports. She is very experienced in global project and oversized deliveries. She has extensive experience of all transport tasks and customs formalities in both imports and exports. She also works as a trainer in logistics.