Customer references
"AHA Logistics taught us everything about imports"
KAS-Telineet supplies scaffolding and weather covers for construction sites and industry. The company provides scaffolding and weather covers, importing them mainly from China for their own use and for rent.
Operational Manager Kasper Rantakoski at KAS-Telineet tells that cooperation with AHA Logistics began about six years ago, when ownership of KAS-Telineet was transferred from father to sons. Kari and Kasper Rantakoski decided to start imports from China. First they experimented importing with another logistics company, but it didn't go as well as they had hoped for. After that Rantakoski contacted his old friend, Jonna Ahkila-Niemi.
-Our first partner was a large logistics company and we felt that we were not valued, because we were a small company. Working with AHA Logistics felt easy from the beginning. AHA Logistics has taught us everything about imports. The service is personal and our wishes are brilliantly taken into account, Kasper Rantakoski says.
Because KAS-Telineet had no previous experience from imports, it was required from AHA Logistics to be involved and to think on behalf of KAS-Telineet.
- The solution might often be something else what we had in mind. We usually transport by sea but sometimes AHA Logistics offers for example rail- or airfreight if we need faster ways to transport goods. We can rely on AHA Logistics to deliver shipments in the best possible way.
If the delivery is delayed, we are always kept up to date. In case of delay we are always well informed what has happened, how the issue will be solved and when is the estimated time of arrival for the delivery. AHA Logistics also organizes transportations from the ports to KAS-Telineet warehouses located in Helsinki and Kaskinen.
According to Rantakoski AHA Logistics is good at solving problems. Mishaps have occurred also.
-The cargo coming from China is unloaded and transshipped in Rotterdam to different destinations. At one occasion, we lost a container in Rotterdam, but AHA Logistics was able to locate the missing container and ship it to Finland with another vessel. It was delivered almost on time.
Rantakoski likes the fact that they have only one contact person. It reduces misunderstandings and saves time when everything doesn't need to be explained from the beginning.
I can recommend AHA Logistics to others. The service works well and operations are transparent, Rantakoski says.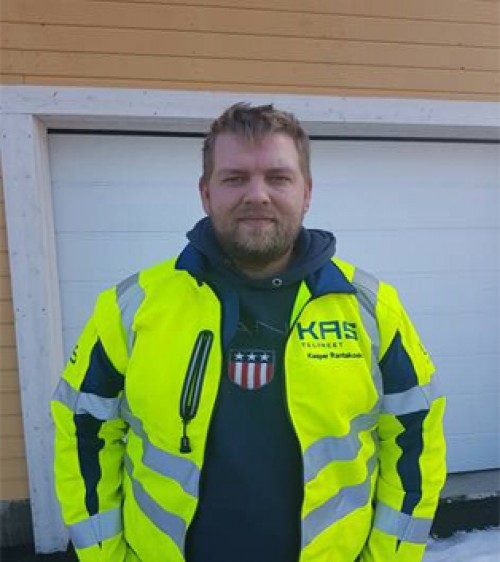 Go back to "Customer references"