Customer references
On-The-Dot Transportations to Europe
Founded in 1989, Ab HUR Oy designs and manufactures weight training equipment that is especially designed for senior exercise and rehabilitation. The equipment is powered by compressed air, which makes it particularly suitable for rehabilitation purposes. HUR has subsidiaries in the US, in Australia and in Germany. Their customer base is expanded all over the world. HUR's main office and production facilities are located in Kokkola, Finland. The company employs 50 people.
Oy HUR Ab's Logistics Coordinator Sanna Store and Finance Manager & Marketing Coordinator Henna Jylhä are the main responsible persons for HUR's gym equipment deliveries. Their equipment is sold and delivered around the world and Finland on a weekly basis.
— We have worked and continue to work with different logistics companies. A couple of years ago we started cooperating with AHA Logistics and have been impressed by their work ever since. AHA has succeeded even when schedules have been tight and shipments have needed to be transported fast. We have a great amount of trust towards them, Store and Jylhä state.
Smooth Fix Deliveries in Germany and Europe

HUR's equipment being transported on time is crucial in terms of minimizing costs but also in terms of practical arrangements. The receivers can be small clinics or units where deliveries cannot be made with large vehicles. On the day of the delivery, customers have often arranged for a professional to be there to install the equipment. It is therefore important that the equipment is delivered in the agreed timetable.
— Fix Deliveries with AHA Logistics have gone smoothly. We have an assigned contact person who knows the special features of our operations. It is easy for us to always work with the same person who is available when we need them, Store says.
Store and Jylhä also praise AHA Logistics' German agents.
— It may be hard to believe, but especially shipments that come through large terminals in Germany are prone to delivery delays. However, AHA Logistics and their partners have managed to take good care of our shipments. They have been able to speed up scheduled transportations when necessary. When it comes to our brand as a service provider, it is excellent that our products are delivered on time even under challenging conditions, Store adds.
The Pricing of Deliveries Is Straightforward

Even though the current world situation poses a great deal of extra challenges for logistics services, AHA Logistics has been praised for their straightforward pricing and for being in regular contact with the customer.
— In principle, AHA Logistics' pricing is straightforward and transparent. AHA always informs us about unexpected changes in their prices without being asked. The impression you get from AHA correlates with reality: the customer is always kept aware of delivery statuses. It is also important that we are openly informed about any twists and turns along the way. It is easy to trust a partner that has these things in order, Jylhä says.
A Smaller Logistics Company Takes Every Delivery Seriously

HUR has a specific incident in mind where AHA's service exceeded all expectations. A delivery was set to be made to a trade fair in France, and the schedule was getting tight. To get into the area, the driver needed a separate pass, which was ordered the night before. HUR's contact person at AHA had taken care of everything late that night and the next morning at 8 o'clock, the driver was handed their pass.
— The fair incident had us on edge, but it was thrilling to witness AHA take care of yet another situation from start to finish. These are the benefits of working with a smaller logistics company: the customer is served to a T even in tight situations, Store and Jylhä conclude.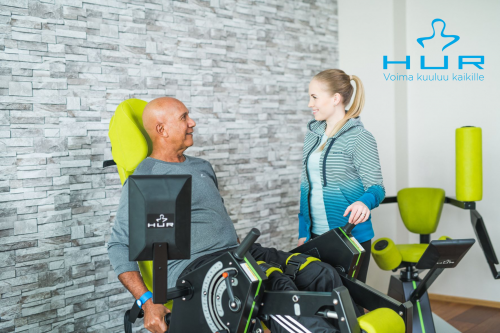 Go back to "Customer references"