News
Challenging transports to the other side of the world

Ab Närpes Trä & Metall (NTM) is an engineering company that develops, manufactures, sells and maintains transport equipment for heavy goods vehicles and refuse and recycling material collection vehicles. The NTM Group has around 650 employees and operations worldwide. The Group's parent company is based in Närpes on the Finnish west coast, and has subsidiaries in Sweden, Estonia, the UK, Russia, Germany, Poland, Canada, and the US. Every year, hundreds of transports leave the factory in Finland to destinations all around the world.

The cooperation began last fall when NTM had recently established a subsidiary in Canada and needed help transporting the bodyworks of the garbage trucks across the Atlantic from the factory in Finland. Shipping overseas to North America was a new experience for the company, says Tobias Söder, NTM Project Manager for North America.
"We started out as rookies. A partner of ours who had worked with AHA Logistics on a North America project told us about the company. From the first contact, we got useful information about Canada and North America and what is required in terms of logistics, like the need for special transports. Our contact Katja Alatorvinen has given us valuable help and support from day one".
Among several quotations from large transport and forwarding companies, the proposal from AHA Logistics stood out as the most cost-effective alternative. The goods are wrapped in plastic during transport and AHA Logistics was the only one offering this service, Söder points out.
Special transports, pandemic, and harbour strike
The transports got off to a rough start. Being oversized, the bodyworks count as special transport for container shipping. Due to dock worker strike the Port of Montreal was shut. The global pandemic in its turn made timetables a difficult puzzle to solve. AHA Logistics accepted the challenge and were able to find an alternative transport route by RoRo-shipping.
"It turned out to be a better solution than shipping the goods to Montreal, as was the original plan. In this case, we could benefit directly from AHA Logistics' knowledge and experience", Söder notes.

A flexible co-operator who puts the customer's needs first
A flexible co-operator is crucial to NTM, as it was clear from the start that sudden changes in transport reservations and schedule would occur.
"We wanted a turnkey solution and a partner who could take care of the logistics chain from door to door. AHA Logistics is a flexible operator that always start with customer needs, instead of doing things for their own benefit. Despite the challenges we've had, both customer service and problem solution have worked very well. They take our ideas and wishes in consideration and together we look for solutions".

Time and effort-saving services
NTM have benefited from AHA Logistics extensive knowledge and experience on several occasions, saving them both time and money. Help and guidance with necessary courses, training NTM's staff to do the plastic wrapping themselves and reducing freight costs, to name a few. Söder is pleased with the cooperation and especially appreciates the company's customer-oriented way of working.
"They are always only one call away, and if your contact person is not available there is someone else ready to help and advise you. We're able to focus on our operations and trust that things are being taken care of".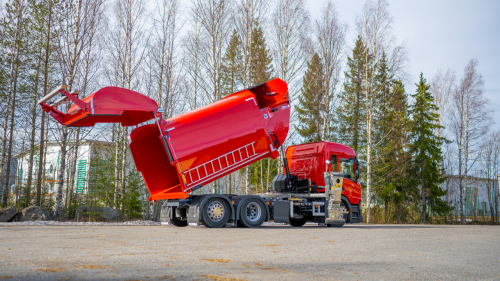 Go back to "News"